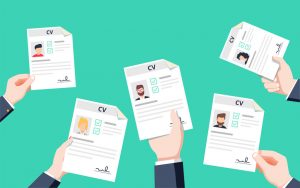 Background checks are a necessary part of the employment process. Many companies recognize its importance considering that it is one of their most important tools to avoid bad hires. In fact, about 96% of employers perform at least one type of background check according to a national survey of HR professionals.
Background screening comes in different forms depending on the industry as well as the type of position an individual is applying for. Nonetheless, it is important that employers have background check solutions that will enable them to complete a background checking process. They should also be as thorough as possible with their screening within a scope that is relevant to the industry or the position in question to ensure no problems will arise in the future. A complete background check not only reduces the risk of hiring the wrong people but also brings transparency to the employment process.
What does a complete background screening policy include?
What a complete background check entails depends on the criteria determined by the industry or the employer. Ideally, companies look for background screening solutions that will allow them to check on a person's previous employment, education credentials, criminal records, credit history, driving and license records and more.
Common scenarios of an incomplete background check
1. Adopting a one-size-fits-all background check.
The process of performing background checks can vary depending on the position or industry. This means you cannot apply the same type of screening in the healthcare field to the manufacturing industry. Otherwise, you will not be able to thoroughly check everything you need from that individual. You need to find the right background screening solutions that are relevant for a position and the responsibilities therein.
2. Trusting unverified sources.
Whether you are checking a previous employment record or an education credential, it should be verified from a trusted and appropriate primary source. For education verifications, you should get the information from the school or institution unless otherwise directed by the issuing school as it is common for them to outsource this type of informational request through entities such as National Student Clearinghouse etc. In the same way, you should contact the company's HR department for his or her employment records unless otherwise directed to a similar third party such as The Work Number.
3. Not covering other important key elements.
Background checks are not limited to employment, educational, or criminal history. Employers should also cover important elements like consumer credit reports, Social Security fraud or excluded parties checks, professional licenses, and many more. Not covering all these bases may result in an insufficient background check simply because the right sources weren't reviewed.
What happens when employers fail to conduct a complete background check?
An incomplete background check can cause immense problems because it increases the chances of a bad or non-compliant hire. Even if you don't put your other employees at risk, a bad hire can have an impact on your company's work quality, efficiency, performance, and company culture or compliance violations with regulations etc. Once the wrong employee has been hired by your organization it may be difficult trying to correct the situation, and it may end up being very costly.
The bottom line
Incomplete background checks can have a negative impact on your company. Thorough background checks can prevent costly bad hires in the future. We all know how important background checks can be so it's important to find a reliable background check provider that can assist you with the most appropriate background check solutions for your company.