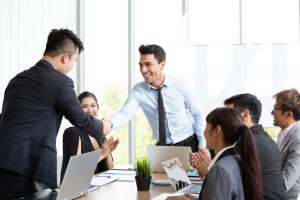 Hiring the right people for your company is vital no matter what kind of business you are running. You need people who have the right skill sets to help your company run efficiently and foster growth. However, it can be quite a daunting task to recruit the right people. Browsing through profiles and reviewing resumes is only a small part of the recruitment process. Hiring the right people requires the right amount of time, effort, and resources on the front end of the process. The success of your company's pre-employment screening procedures depends on many factors, one of which is choosing the right background screening provider.
Background screening is an important aspect of hiring new people for your company. It is always a good idea to have as much relevant information about the person you would like to hire as is possible. For instance, in certain industries like education or public safety, criminal, felony, and sex-offender records are always checked. In the field of transportation or sales, driving records are also important.
To accurately have access to these records you need background screening services from a dependable background screening provider to ensure the validity of those records and reports. The laws and best practices that surround background checks may vary from state to state or even municipal jurisdictions, so having a partner who specializes in compliance is critical. Edge Employment Screening is one of the best providers in the industry.
Here are the reasons why EDGE makes an excellent choice:
Expertise
Doing background checks is not something that should be left to just anyone, especially when there are potential liabilities attached to it if not done correctly. It only makes sense to partner with a provider who has the experience and expertise to perform those checks in a compliant fashion. Edge has decades of experience in doing successfully compliant background checks and understands the procedures to obtain information in a legal and responsible way.
Education and Support
Edge has the tools and resources dedicated to providing your company the information and education to help your organization stay up to date with an ever changing compliance landscape. They will help keep you reacquainted with laws and regulations so you can maintain excellent hiring practices. For instance, they conduct training and webinars about changing requirements in order to help refresh your memory about certain processes.
Edge has an upcoming i9 – Q1 Webinar by Philip Ginter on March 25, 2021. The webinar is all about 'The 'Real Deal' on Form I-9'. This session will cover a variety of areas relating to Form I-9 that may surprise even seasoned I-9 professionals. The areas that will be discussed on the webinar include:
Paper form versus electronic format

Who you do not have to complete an I-9 on

What blocks require N/A if any entry is not made

What addresses are entered in the address blocks

How to complete an I-9 on employees when you don't have one on file

How long do you have to maintain an I-9 on your employees

How to make a correction on the form

How to complete I-9 on remote employees

The temporary policy changes to the form based on COVID-19
Human Resources conferences are also one of the ways to educate your company more about best hiring practices. Here's a list of upcoming conferences that Edge will be attending and have our personnel and booth available. (Come say hi, we'd love to see you!)
Efficient Service at Lower Costs
According to the U.S Department of Labor, the price of hiring the wrong people can cost you at least 30 percent of the employee's first-year earnings. Moreover, you will need to invest more time and resources to replace the bad hires that are made along the way. Whether you are running a big corporation or a small business, savings will always matter. At Edge, your company will be provided with consistent and thorough background checks allowing you to invest your additional resources where they may be needed most. 
Effective Services
Edge has effective and efficient background screening solutions that help generate accurate and credible results. Edge has the services that have been developed and improved over the course of three decades. 
Legal Compliance
Having a compliant screening policy and procedure is particularly important because conducting screening outside of those parameters can invite a number of legal, ethical and financially crippling stumbling blocks . At Edge, every effort is made to work towards having a policy and procedure for your organization that is compliant with the FCRA. With all the complex rules surrounding background checks, it is only fitting that you partner with a company that has the same commitment to this compliance that you do. 
Quality Hires
Your company's quality of hire is directly linked to your business outcomes. You need people who can contribute to your company's long-term success. Partnering with Edge means you are targeting the hiring of top-notch applicants. Implementing effective background screening solutions by Edge may increase the chances of hiring exceptional candidates within your organization.
Better Use of Your Time
As mentioned earlier, browsing profiles is only a small part of the recruitment process. By letting Edge do the vital aspects of background screening, you can make better use of your company's time, energy, and resources on other matters. For example, you may devote more of your time to preparing your new recruit's contracts about benefits, compensation, training, or on other procedures within human resources.
Conclusion
Background screening is an essential part of your company's hiring and recruitment process. After all, it helps you safeguard your company's reputation and ensure that you create a safe and secure work environment for all your employees. Partnering with a leading background screening provider like Edge is important to help make your recruitment process easier and more compliant. 
With numerous services ranging from criminal searches to employment verifications or drug testing, you get the background check solutions you need and a true expert partner for support. Furthermore, Edge helps your company stay current with any new laws, regulations, and procedures that may affect your background screening process now and in the future.