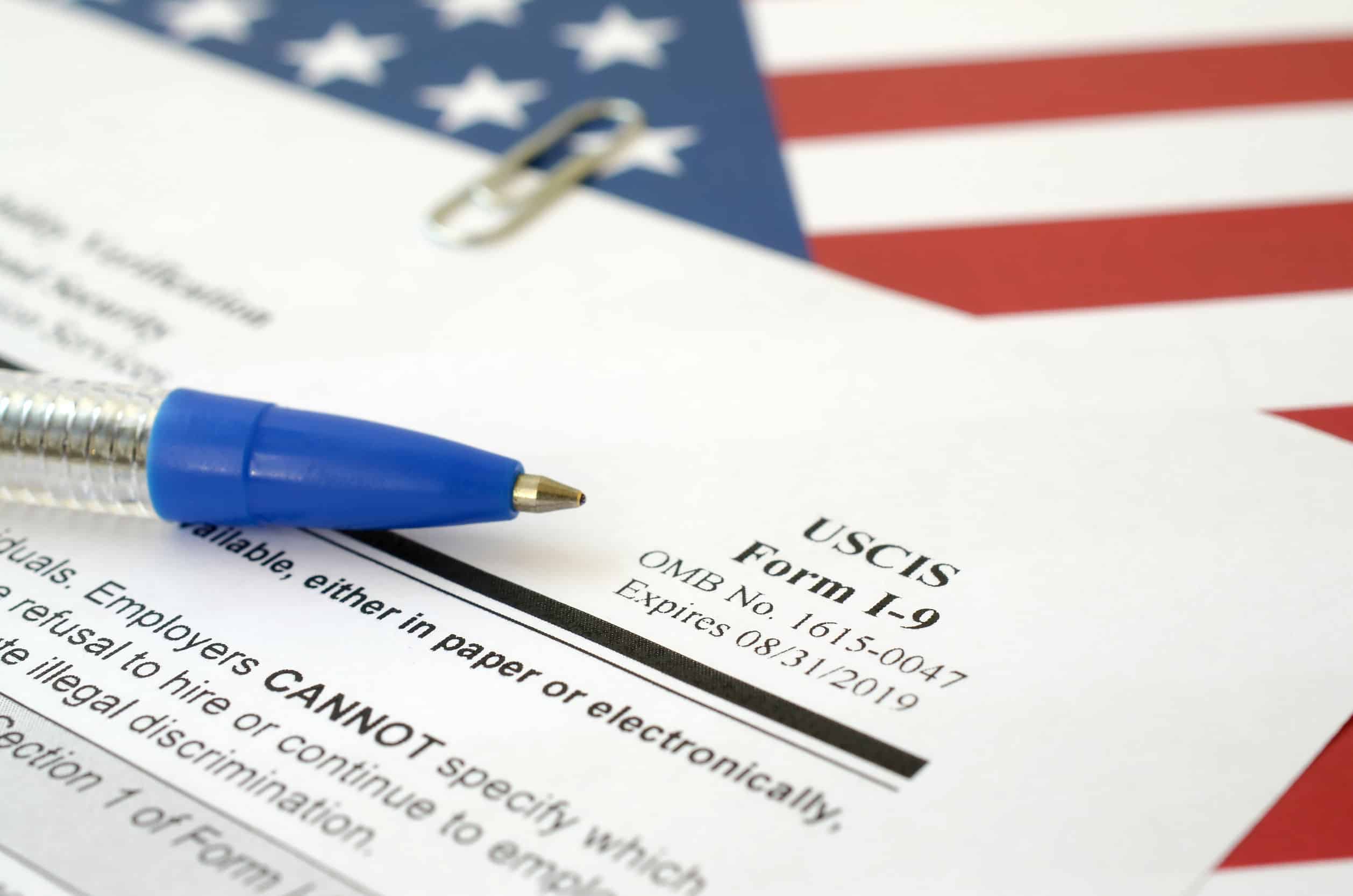 The world is going through radical changes, and the workplace is no exception!  HR departments and I-9 compliance managers all over the US are just getting used to the "new normal." Onboarding new hires has become challenging, especially with the I-9 Employment Eligibility Verification.
I9 – Compliance
Of all the paperwork a new hire needs to complete, the Form I-9 is the most important.  Employers use Form I-9 to verify the identity and employment authorization of anyone hired to work in the United States.  All US employers are required to complete the Form I-9 for each person they will hire.  This applies to citizens and non-citizens.  The employee has to complete section 1 of the form, while the employer or an authorized representative will complete section 2.
I-9 Compliance is a business's act of good faith, showing that they've made an honest, and thorough effort in verifying an applicant, ensuring that the candidate is who he or she claims to be, whether he or she is a US citizen, or a non—citizen who is authorized to work in the US.
Unfortunately, fabricating false identification has become more accessible in recent years. Fake ID rings can produce high-quality fake identification with their sophisticated document-printing equipment.  Though these blatant acts of fraud are the main reasons businesses are paying the price for I-9 violations, poor verification processes are just as big of a culprit.
I-9 Verification Mistakes
While the form looks easy enough to fill out, I-9 auditors still find errors regularly, and these errors can result in hefty fines and penalties for the employer.  What makes these errors more stressful is that for each mistake, there's a corresponding fine.  So, a single 1-9  with several mistakes can result in multiple penalties.  And the troubles don't end there.  Employers can face prison sentences and forfeiture of assets for compliance violations.
Retailers are the most prone to I-9 problems since employers have multiple stores in different locations. This type of situation forces the employer to delegate the store manager with I-9 compliance tasks.  Doing so can easily result in numerous problems. For instance, the manager does not pay enough attention to the paperwork to speed up the hiring process and fill their urgent hiring needs.  Managers might unintentionally accept fraudulent paperwork because of the oversight.
Sometimes, the employers might give the i-9 form to the employee to fill out, along with the other new hire paperwork.  And most of the time, the employer would forget to look through the paperwork later, resulting in their non-compliance.
Though most of the US businesses don't intend to violate immigration laws, the bottom line is, failure to actively examine and verify employee documentation properly is in itself an act of planning to break the law.
Best Practices
It doesn't take any technical expertise to demonstrate good faith in your verification process.  You can stay compliant with I-9 regulations during the pandemic by following these best practices:
Include an I-9 form compliance management routine in your new hire orientations.  Doing so minimizes the chances of you forgetting to accomplish this vital documentation.  Implement this throughout your organization, especially if you have multiple branches of your business in different locations.

Make sure to fill out the employer section of the form (Section 2) yourself as much as possible.

You can't rely too much on your own eyes, as well as you shouldn't.  Invest in more reliable

electronic I 9 compliance

systems that can help you properly verify the documents your applicants will present.  Writing down their ID details and inspecting their photo just won't cut it anymore.  i9 management tools like Edge's i9Edge ensures secure verification of the legitimacy of an applicant's identity. Investing in

i9 solutions

will go a long way in showing your honest effort in verifying every applicant who desires to work in the US
I-9 Process Changes During The Pandemic
Because of the challenges brought by the Coronavirus pandemic for onboarding new-hires, the Department of Homeland Security DHS has relaxed some of its requirements for completing the Form I-9.  The policy temporarily removes the physical presence requirement of the employer for the Employment Eligibility Verification (Form I-9).  This change means that employers who are practicing social distancing through remote work can review the employee's identity and employment authorization documents without the employee's physical appearance, which was the standard requirement.
Employees who are present at the work location are still required to undergo in-person verification.  But if any employee (existing or newly hired) is diagnosed with COVID-19, and are subject to quarantine, it's up to the discretion of DHS to implement the relaxed policy on a case by case basis.
The initial guidance from March 19, allowed companies to review section 2 of the I-9 forms remotely either over a video link, fax, or email within three business days of the employee's start date.  You can find the other provisions of the policy in this original guidance by the ICE.
I-9 Requirement Flexibility Extension
When May arrived, Coronavirus cases were still rising in the country and all over the world. The situation prompted the Department of Homeland Security (DHS) and United States Immigration and Customs Enforcement (ICE) to extend the flexible I-9 procedures due to COVID-19 until July 16.  But due to ongoing COVID-19 precautions, the DHS has again extended the policy for another month, ending on August 19, 2020. 
Employers must still maintain written documentation of their remote onboarding and remote work policy.  When normal operations resume, new hires onboarded remotely must report to their employer for in-person verification within three business days from the resumption of normal operations.
Conclusion
Implementing the verification process should not be taken lightly, even with the flexibilities brought by the COVID-19 pandemic.  Employers must plan, implement, and audit their verification process.   All of which can be done by a system like I9Edge for electronic I 9 compliance.
Using i9 solutions is your best way to streamline your verification process.  It can help you maintain proper compliance even when you're using an authorized representative such as a family or friend who may not be familiar with the I-9 forms.  By using an i9 management software, employers, and HR personnel can make the I-9 process simple and fast while maintaining the integrity of the hiring process even during these challenging times.