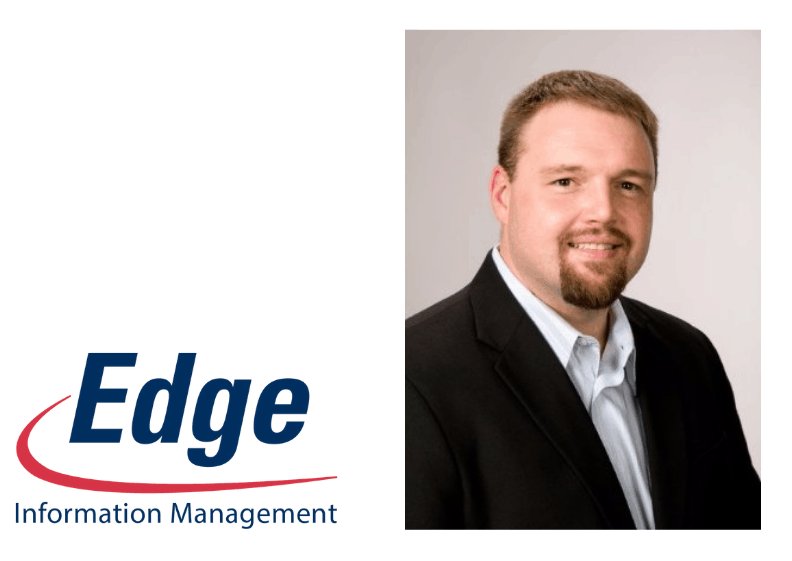 FOR IMMEDIATE RELEASE
CONTACTS:
Joe Langford, President
Edge Information Management, Inc.
(800) 725-3343
EDGE INFORMATION MANAGEMENT PROMOTES NEW SENIOR DIRECTOR OF SALES AND CLIENT SERVICES
MELBOURNE, FL – February, 2019 Edge Information Management has promoted Chad Stair to Senior Director of Sales and Client Services within the company.
Chad has been with Edge since 2017 serving as the Director of Sales and Client Services with operational oversight of the Marketing Department.  He is an active member of the leadership team and has focused his efforts on securing new client opportunities and ensuring the satisfaction of the existing client base while revamping Edge's brand as well as social media presence.  "Chad's depth of industry awareness and technological understanding provides the proper knowledge combination to meet our client's immediate needs, while also helping prepare them to meet future goals" said Edge President Joe Langford.  "He has brought a fresh perspective to Edge allowing us to better compete within the background screening industry."
Edge Information Management, Inc., established in 1991, is a privately held national provider of employment screening services dedicated to furnishing employers with accurate background screening, drug testing and electronic i9/e-Verify services at cost-effective rates. Edge delivers services to each client via the Internet through multiple software platforms, portals or integrations with a variety of industry leading ATS Systems and technologies. The ability to combine "big business ability with small business agility" is the value most appreciated by Edge's clients. Their NAPBS Accreditation exemplifies Edge's dedicated focus on delivering accurate information quickly and in compliance with federal, state and municipal guidelines.
DOWNLOAD PRESS RELEASE