Being Smart with your Background Checks as Legal Risk Grows
When: July 13, 2023 2:00pm EST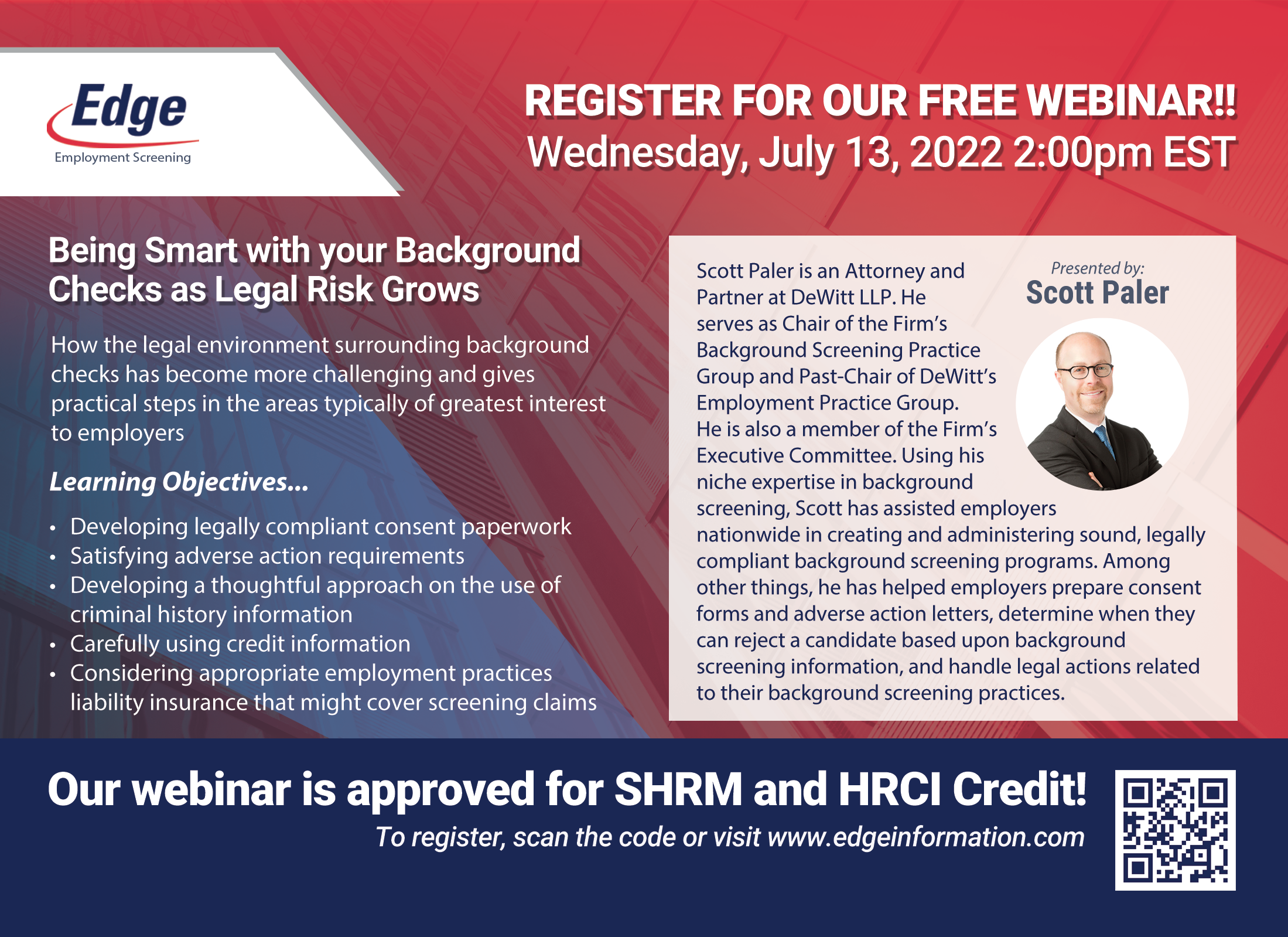 About the Webinar
How the legal environment surrounding background checks has become more challenging and gives practical steps in the areas typically of greatest interest to employers.
Objectives:
Developing legally compliant consent paperwork
Satisfying adverse action requirements
Developing a thoughtful approach on the use of criminal history information
Carefully using credit information
Considering appropriate employment practices liability insurance that might cover screening claims
Presenter Bio:
Scott Paler is an Attorney and Partner at DeWitt LLP. He serves as Chair of the Firm's Background Screening Practice Group and Past-Chair of DeWitt's Employment Practice Group. He is also a member of the Firm's Executive Committee. Using his niche expertise in background screening, Scott has assisted employers nationwide in creating and administering sound, legally compliant background screening programs. Among other things, he has helped employers prepare consent forms and adverse action letters, determine when they can reject a candidate based upon background screening information, and handle legal actions related to their background screening practices. Wisconsin Super Lawyers has repeatedly recognized Scott as a "Rising Star." In addition, in 2016, Scott was named the exclusive winner of the Client Choice Award in the area of Employment and Benefits in the State of Wisconsin.
Janice Hudson has been with Edge since 2016 and has worked in the customer service arena for over 10 years. Throughout her tenure with Edge, she has employed an organized and dedicated approach while implementing new procedures both to measure performance and to train her team on new software tools and platforms. She holds a Bachelor of Business Administration in Finance from Florida Atlantic University. Janice demonstrates integrity and commitment to client satisfaction and has a passion for excellence while servicing all clients. She and the Customer Service Team realize the importance of making Edge stand above all others offering employee screening services. She is FCRA Advanced Certified through PBSA.
Learn More About our Customized Solutions!